It only takes a specific point of view to recognise that practically everything has value. Something that appears to be damaged and useless could be repurposed or recycled into something beautiful, or it could even be worth a lot more money than you realise. For example, your smashed Suzuki car is in the same boat. We will buy your shattered Suzuki car for top price rather than merely hanging around as an eyesore. We pay cash for your damaged or old, or junk Suzuki Car, regardless of its condition.
We are a Suzuki Car Removals company that helps Brisbane residents with their scrap Suzuki car issues. Call us at 1300 324 912 for more information.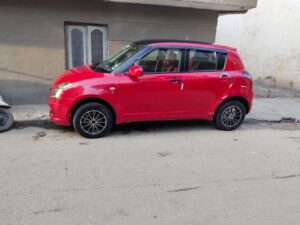 Get Fast Cash For Suzuki Cars in Brisbane – We Can Pay Up To $9,999 For Your Vehicle.
Your unwanted scrap Suzuki has given a fresh lease on life! Rather than allowing your junk or old automobile to take up valuable space while deteriorating with each passing day? Fast Way Car Removal, the Suzuki Car Removals, pays top dollar for automobiles, up to $9,999. We will pay the most acceptable prices in Brisbane for your vehicle, whether it is a scrap car or simply old. We believe in giving car sellers a convenient and straightforward approach to selling their vehicles while still earning the most excellent cash price possible.
Sell Your Suzuki Car Quickly!
There will be no delays. There are no complications. Just quick and painless cash for automobile transactions. When you sell your junk Suzuki car to Fast Way Car Removal, the best Suzuki Car Removals, you get a quick and easy process that can get completed in minutes. The entire procedure is finished in three simple steps, leaving you with the top dollar in your hands. To begin, call or go online and get a quote. Second, schedule your no-cost Suzuki car removal (we will come to you anywhere in Brisbane). Finally, if you accept, all paperwork and payment can get completed now, and your automobile will get towed for free!
Fast Way Car Removal makes selling and removing your vehicle as simple as possible.
Avoid the pains and hassles of selling your Suzuki car by scheduling a quick Suzuki car removal whenever it is convenient for you. Our high-quality Suzuki Car Removals can be done in about an hour, including payment.
For getting a no-obligation quote, give us a call on

1300 324 912

Please make an appointment with us for hassle-free Suzuki car removal.

Accept our best cash offer and get paid while your automobile is being towed away for free.
Our excellent Suzuki Car Removals services make car sellers smile all around Brisbane, the Gold Coast, Sunshine Coast, Toowoomba, and Ipswich – and you will too when you sell your scrap Suzuki car to us.
We Are The Eco-Friendly Suzuki Car Removals & Recyclers Fast Way Car Removals provides quality Suzuki Car Removals and cash for car services, but we also recycle Suzuki cars. We are also the most environmentally friendly option for getting rid of your vehicle. We deconstruct, recycle, and reuse nearly every part of your car, ensuring that no waste can come out, as is when cars will get transported to a landfill. As a result, you can get complete assurance that your vehicle is not harming the environment while still obtaining top cash and free towing.
Fast Way Car Removals is the best option for you if you care about the environment and want to sell your Suzuki car to a recycler that performs green auto recycling. We will pay you fair and courteous cash for your vehicle, regardless of its condition. We'll make selling your car as easy as possible for you, and we'll give you the top price for it.
What Makes Our Brisbane Suzuki Car Removals Experts the Best?
We've been in the

Suzuki Car Removals

business for a long time and know what it takes to stand apart.

We have extensive experience with

Suzuki Car Removals

and are experts that can work with unwanted vehicles in any condition.

We recognise the genuine worth of automobiles. Our Suzuki car appraisal team is thorough and accurate, and we strive to provide you with the best cash offer possible.

We provide a quick and painless process. We'll be serving at your doorstep in no time, eager to buy and remove your scrap automobile or vehicle.

All Suzukis, whether smashed, undesired or simply old, have value to Fast Way Car Removal. Due to gasoline and chemical leaks, rust, and deterioration, a parked damaged Suzuki car becomes increasingly detrimental to the environment over time. Please make the most of your smashed Suzuki car situation by converting it into top income. The sooner you get rid of your shattered car, the higher its worth will be and the higher the sale price.
Your hail-damaged Suzuki car may be unattractive, but Fast Way Car Removals will gladly pay top bucks for it. Because we perceive the genuine value in all sorts of automobiles, Fast Way provides Suzuki Car Removals for all Suzuki vehicles in any condition. We buy Suzuki cars 'as is,' so there's no need to prepare them. Injured Car Removal, Junk Car Removal, Old Car Removal, Trashed Car Removal, Scrap Car Removal, and Undesirable Car Removal are all services we provide for Suzukis.